What is competency architecture?
A competency architecture provides a set of rules for guiding the selection of competencies and proficiency levels required for every job profile in an organization.
The concept of a competency architecture is best understood when you compare it to the construction of a house. To build a proper competency architecture, you will need to utilize various types of competencies and apply them in the same manner as an engineer who is responsible for the blueprint of any construction project.
Article table of contents (jump to a section):

1. What is competency architecture?
2. Image of a basic competency architecture model
3. What does a competency architecture example look like?
4. What are the benefits of a competency architecture?
5. What are proficiency levels?
6. What is a job profile?
7. 6 steps to develop a competency job profile
8. Video: How to create a Competency Profile in less than 2 minutes!
Below is the basic format of a competency architecture and a simple illustration which reflects this concept.
Core Competencies
Core Competencies are the foundation of any competency architecture project.
They include the critical competencies needed by every employee in order to help your organization to achieve its business goals, vision and mandate.
In behavioral terms, these competencies help describe the key values and strengths of your organization (those unique aspects that set your organization apart from its competitors).
Core Competencies (examples)
Teamwork
Client Focus
Achieving Excellence
Job Family Competencies
Job Family Competencies serve as the main floor of a competency architecture project.
These are defined as common competencies designated to a group of jobs.and are more related to skill or knowledge requirements for certain types of jobs (e.g. Marketing for jobs involving sales).
Job Family Competencies (examples)
Partnering
Project Management

Organizational Awareness

Data Literacy

Fostering Communication
Technical/Professional Competencies
Technical competencies describe the application of knowledge and skills needed to perform effectively in a specific job or group of jobs within the organization. These types of competencies are closely aligned with the knowledge and skills or "know-how" needed for successful performance.
This type of competencies would be on the 2nd floor of your competency architecture.
These technical/professional competencies tend to be specific to roles or jobs within a Job Family, and include the specific knowledge and skills needed for optimal employee performance (e.g. specialized skills or career relevant knowledge).
These competencies can be specific to roles, levels or jobs within a Job Family or generic to a Job Family.
Technical Competencies (examples)
Accounting and Reporting

Business Analysis

Recruitment and Selection

Quality Management and Assurance

H

uman Resources Management

Concern for Safety

Negotiation
Leadership Competencies
This type of competencies would be on the roof of your competency architecture.
Clearly defined leadership competencies give you the tools you need to translate these qualities into observable and measurable behaviors, bringing increased consistency, clarity, and rigor to the process of identifying and nurturing leaders.
Competency-based management for leaders offers a blueprint for success that anyone can see and understand—including those tasked with identifying the leaders of tomorrow and those to be groomed for leadership roles.
Some organizations view "leadership" to be a part of every job of the organization in that employees are expected to contribute and offer new or better ways of working regardless of their level or role in the organization.
Leadership Competencies (examples)
Inspiring Others

Leading Change

Nurturing Innovation
Link:
https://bit.ly/3KbOaOs
Image of a basic competency architecture model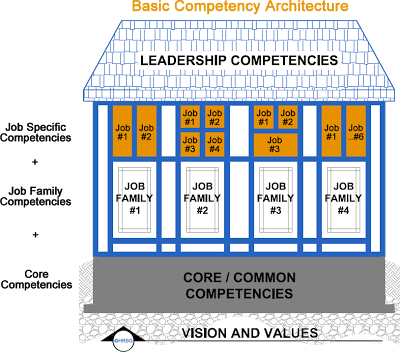 *Visual representation of a basic competency architecture model
What does a competency architecture example look like?
Here is a competency architecture example for XYZ Company
In this example, the competencies used are multi-level competencies and the two positions have the same competencies (not counting the levels) for both the foundation (i.e. core competencies) and the first floor (i.e. job family competencies) of the competency architecture.
It is on the second floor (i.e. job specific competencies) that we see different competencies for the two specified job positions.
---
Want to learn more about using competencies? Get started with our Competency Toolkit:
Download your Competency Toolkit using the form below. Downloaded over 10,000 times by professionals like you.
What are the benefits of a competency architecture?
Having a competency architecture for your organization ensures:
Alignment. Every job profile aligns with organizational goals, departmental or job-family priorities, and the requirements of the job.
Fairness. Employees can see that the same rules apply to profile development at every level.
Continuity. Consistent competency architecture ensures continuity and cohesion for HR activities across the organization.
What are proficiency levels?
Proficiency levels define progressively higher degrees of expertise and mastery for a competency. With multi-level competencies, different job competency profiles can share the same competency expressed at different levels.
This helps HR staff and employees to see points of connection between jobs, which improves performance management, career development, and succession planning activities.
What is a job profile?
A job profile is a basic outline regarding a position and is seen as a first step to crafting a well defined job description. It can also be helpful for job seekers as it gives them a high-level overview about the prospective job.
Competency-based job profiles can help you go beyond a basic job profile and can be used as a solid foundation for an organization's development programs.
Using competency-based job profiles can give your organization greater clarity, detail and allows future candidates to get a better sense of what to expect regarding the job they are applying for.
A competency-based job profile can provide as many as five behavioral indicators, which clearly define the requirements for a job in concrete terms.
Examples of behavioral indicators include "acts as a seasoned adviser, providing independent opinions on complex client problems" or "pushes clients to consider difficult issues that are in their best interests".
By aligning formal, informal, and on-the-job learning opportunities with the behavioral indicators for each competency in the job profile, an organization can give employees a clear learning path to target any shortcomings in their current job, strengthen their performance, or prepare for the challenges of a new position.
6 steps to develop a competency job profile
Every job profile needs a combination of general and technical competencies in order to capture the complete picture of the ideal candidate. To determine the right combination, you need to understand how these two types of competencies fit into the organization's competency architecture.
General competencies are geared towards the foundation (i.e. core competencies) of your competency architecture, which defines the key strengths & values which are shared by every employee within your organization.
Technical competencies, on the other hand, are focused on the job-specific layers (i.e. job family competencies and job specific competencies) of your competency architecture.
To help your organization develop a proper competency job profile for its employees, here are six steps we would recommend:
1. START WITH A PILOT PROJECT
Starting with a small pilot project is a excellent way to explore the application of multi-level competencies within your organization. At this stage, you can adapt the job profile-building process and competency content to the unique needs of your organization.
In our experience, we've found that our clients started their pilot projects by selecting competencies for a small group of related job profiles before rolling them out for the whole organization.
2. IDENTIFY YOUR GOAL
There are various reasons why HR professionals use competencies.
Some want to change organizational culture. Others want to strengthen it. Some want to ensure performance consistency across different locations while others want to reduce turnover.
When developing a competency job profile, it is important to have a clear goal in mind before you begin your project. Another important step would be to take baseline measurements to help you better measure the effectiveness of your project (prior to its launch).
Example: An organization that desires to improve the quality of new hires may choose to focus on developing a competency job profile for a role which experiences high-turnover within the organization.
The organization would measure key organizational metrics such as performance evaluations and retention rate before starting the project. This measurement should occur both before and after any competency job profile has been used within the organization's hiring process.
3. LEVERAGE AUTOMATION TOOLS
Using tools such as Word documents, email and spreadsheets to select and apply multi-level competencies to job profiles can add to the challenge.
Some of these tools lack centralization (i.e. ease of access for various managers) and integration (regarding the collaboration and management of your competency job profiles).
Using next-generation software tools such as our competency management software can streamline the process by helping you synthesize organizational input, manage competency content and ensure a defensible, fully documented process.
Example: HRSG's CompetencyCore Profile Builder leads your organization through an automated, best-practice survey process for short-listing, reviewing, selecting, and publishing competencies at the right proficiency level for each job profile in your organization.
4. ENGAGE YOUR STAKEHOLDERS
Developing competency job profiles can require input from HR managers, executives, staff, boards of directors, employees, and other external audiences. This would depend on your organizational process and the full scope of your competency project.
To achieve success at this step, it is critical to invest some resources and time in developing your communication approach with your stakeholders. This can help increase support and participation by stakeholders for your competency project.
You may need presentation materials to help them understand the competency approach, the project goals and objectives, and the importance of their role in the process.
Example: Employees want to know how competencies will support them in planning and managing their careers.
Managers want to know how competencies can help with hiring and managing employees more effectively.
Executives want to understand how competencies support the strategic vision and goals for the organization.
The key is to understand your target audience and gear your communication to address their needs or concerns.
In our experience, clients who consider the perspectives of each stakeholder (as well as mention what the stakeholder will gain) tend to see higher success rates for their competency initiatives.
5. DOCUMENT THE PROCESS
In order to provide your organization with a measure of legal defensibility, it is important to document the development process for your competency job profiles. Ensure you have the following tasks completed:
Record and file information including the names and positions of the stakeholder who participated
Record and file information on their individual stakeholder feedback
Record and file information on the process by which that feedback was synthesized to make decisions about the competencies and proficiency levels attributed to each job profile
Doing so will demonstrate that your job profiles were developed in a fair and inclusive manner.
Example: HRSG's CompetencyCore Profile Builder documents every step of the competency selection process and provides you with a clear and defensible paper trail.
All stakeholder input is consolidated into a single report that includes each person's selections and any comments or feedback they provided.
6. SHARE YOUR SUCCESS
Competencies can have a big impact on the organization in terms of its performance and culture. But unless you communicate those impacts—in newsletters, videos, presentations, and other promotional channels—they can go unrecognized.
Whether it's an improvement in KPIs or positive employee feedback, take the time to share and promote the good news.
It will increase awareness and organizational buy-in as well as provide forward momentum for additional projects.
Measurement of competency applications or projects is similar to the approaches used with other HR applications. It can take specialized expertise to set up the appropriate metrics and evaluate project success.
These methods range from feedback surveys to measures of organizational performance and business results.
Video: How to create a Competency Profile in less than 2 minutes!
Test out our AI-powered competency profiling tool by pasting any job description of your choice and see the top 5 competencies associated with that job description.
Learn More About Using Competencies:
Post last updated: January 8, 2021